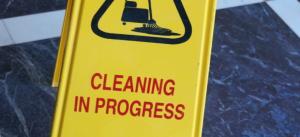 What is deep cleaning?
Deep cleaning is different from your regular cleaning and would be carried out periodically in conjunction with your regular cleaning.
It reaches deep grime, dirt, oil and grease that just can't be reached with regular cleaning using hot water extraction known as steam cleaning and is carried out by our specially trained, professional cleaners who have hands on experience.
Regular cleaning is ideal for eradicating surface dirt and grime and is essential in maintaining a clean and tidy environment, however to assist in preventing the build of hidden germs a bacteria a specialist deep clean is necessary to make sure your environment is hygienic for workers and visitors.
Unique Clean's specialist cleaning services include commercial catering environments and restrooms including extractors, filters, ducting and fans, tiling and grout and comply with Health and Safety Regulations.
We also carry out deep cleaning on carpets, curtains and upholstery removing built in stains and chewing gum etc.
Deep cleaning is best carried out 2 – 4 times per year depending on the usage of the area concerned and can be carried out at a time of your convenience.
Read more on our Commercial Cleaning Services.